The largest oil producer in Manitoba (and long-time partner) contacted Imaginet to implement a unified data warehouse. They needed to report on data from several sources, including PVR (oil production volume reporting system), InterSystems IRIS (financial data system), P2 Qbyte (financial data system), AccuMap (oil and gas mapping software), and WellView (well information management system). While the client had many valuable data points for current and historical perspectives, it was disjointed, time-consuming, and difficult for them to report across the different systems and see the insights that correlated data could reveal.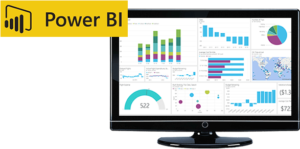 Imaginet used SQL Server Integration Services to load and transform the data into a data warehouse hosted on SQL Server (on-premises). We created an analysis cube using SQL Server Analysis Services that loads data from the data warehouse. The client connects to the cube from Microsoft Excel to build pivot tables and charts or, with the help of Power BI, can easily compile robust reports. We have also helped the client start the transition to cloud-based services. When they switched from IRIS to Qbyte for their financial tracking, we used Azure Data Factory to coordinate the data movements and replaced their Essbase cube with Power BI. The introduction of Azure DevOps helped us increase efficiency and collaboration in creating and tracking work items for the project.
Imaginet successfully connected the data from multiple systems so the client could get a better idea of production, broken down to each oil well. With the new system, weekly reporting is simplified and expedited. Up-to-date information is readily available, so the client can review and adjust production times and volumes as needed.
Technologies Used
AccuMap from IHS Markit
Azure Data Factory
Azure DevOps
Azure SQL Database
Azure Storage
InterSystems IRIS
Microsoft SQL Server (on-premises)
Oracle Essbase
Power BI
PVR
P2 Qbyte
SQL Server Analysis Services (SSAS)
SQL Server Integration Services (SSIS)
WellView from Peloton
Thank you for taking the time to read this case study! We hope it provided valuable insights and inspiration for your own projects. Our developers bridge the gap between your data sources and your business goals so everyone on your team can analyze and examine your data from a variety of perspectives, gather new and meaningful insights, draw robust reports, and make actionable business decisions. If you enjoyed this content, be sure to check out our recent works for more case studies and blog posts on similar topics. Don't forget to subscribe to our newsletter for the latest updates and exclusive content.
Let's build something amazing together
From concept to handoff, we'd love to learn more about what you are working on.
Send us a message below or drop us a line at 1-800-989-6022.