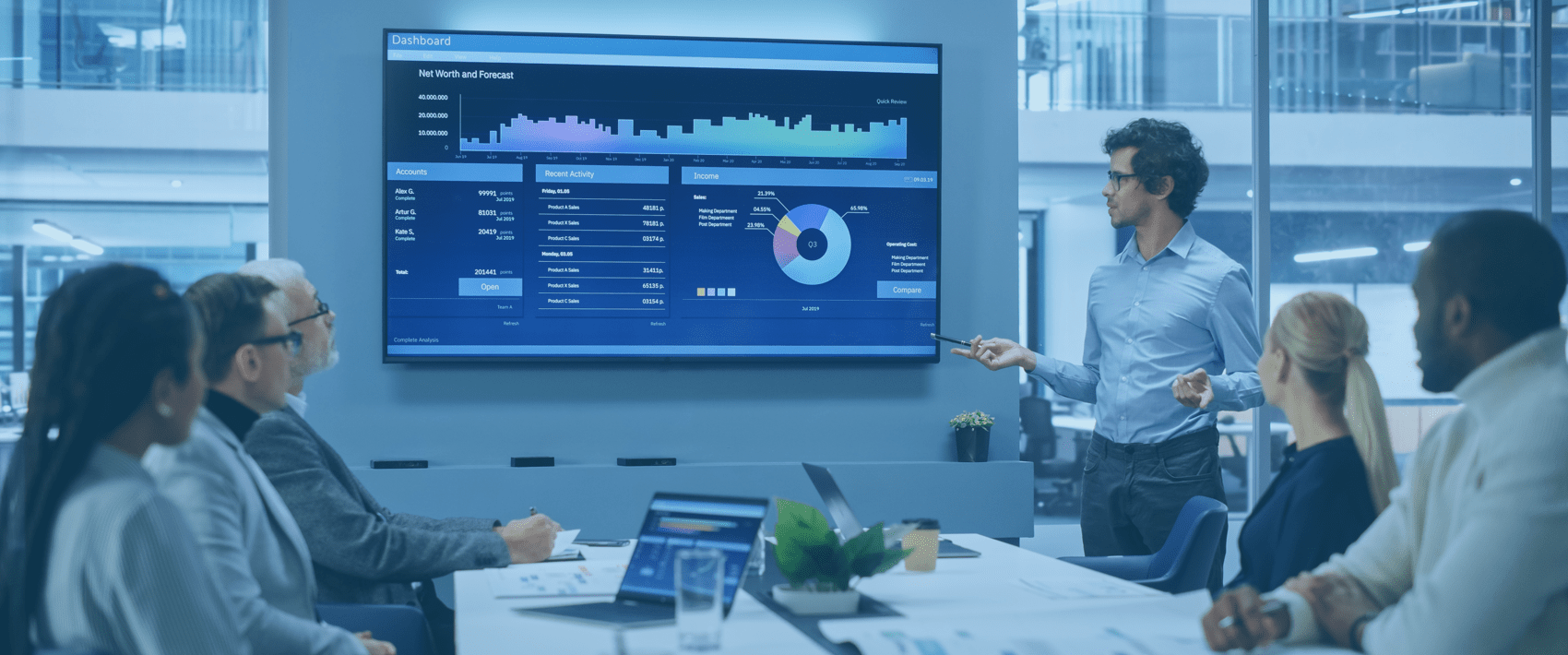 Content Migration to SharePoint
Often as part of our MS 365 implementations, a content migration into SharePoint/Teams is required. It is common for organizations to have content that exists in a file share, network drive, SharePoint on-premises, Dropbox, Gdrive, etc.
Benefits of Using a Content Migration Tool
Imaginet recommends using a migration tool to facilitate the content migration from source to destination, as it provides many benefits over a manual or bulk migration.
Pre-migration audit report – this identifies any files that will present challenges during the migration
Maintains metadata on content – without a tool, all metadata will be lost during the migration
Initial and incremental moves – this allows for a very short outage for business users
Migration reports – these confirm what content was migrated and where
Ongoing maintenance of content – the migration tool can also be used to move content around inside SharePoint Online once the migration is complete
Imaginet has had many successful migrations with ShareGate and we recommend it as our preferred migration tool of choice. Their customer support is great and the price of the tool is very competitive. The ongoing administration and governance support provided by ShareGate is another differentiator from competitors.
Imaginet Approach to Content Migration
Imaginet performs the following steps as part of our content migrations into SharePoint Online.
Content Audit
ShareGate allows us to run a content audit report before migration, which provides two main outputs:
1. A list of all content, its location, and metadata (including when it was last edited, who the owner is, and the date it was created) associated with it.
This list gives us a baseline of content to review with content owners. It also ensures that we are aware of all content in the current environment that either needs to be migrated or left behind.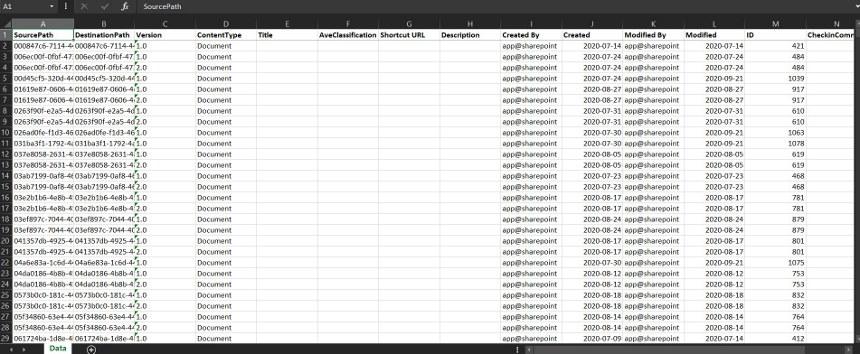 2. A pre-migration audit report.
This report gives us a list of items that require remediation before migration, such as checked-out documents, links that will break, versional control, custom permission sets, etc.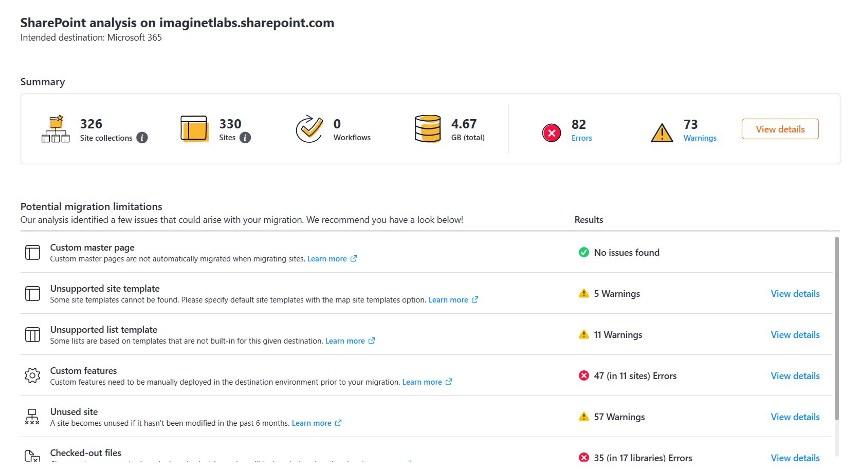 Source and Destination Remediation
Any items identified in the pre-migration audit can be remediated or ignored. Often in legacy systems, not all issues need to be remediated due to the content being obsolete.
This stage also allows for remediation steps to occur in the destination before business users have access and are impacted.
SharePoint Online Configuration
Outputs from Imaginet's Content Assessment and Business Requirement Capture Sessions will have included the creation of a site taxonomy, information architecture, and permission groups for SharePoint Online. Imaginet will configure SharePoint Online to match these items so that SharePoint Online is properly provisioned and ready to accept the content.
Bulk Migration
ShareGate takes a snapshot of the content in the source SharePoint and migrates it to SharePoint Online via a "copy and paste" method while respecting the newly designed content architecture (folders, document libraries, sites, site collections, etc.). During this migration, the source SharePoint is still active for end users and supports all day-to-day business operations – end users are not impacted.
ShareGate then provides post-migration reports, which alert us to any content/files that did not migrate successfully. These can be reviewed and remediated as needed.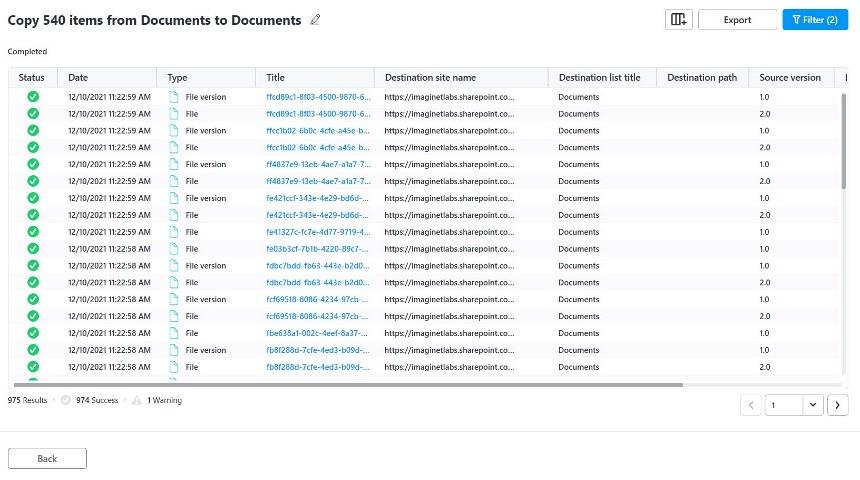 User Acceptance Testing (UAT)
Business users can access the SharePoint Online environment and validate that it matches their expectations with regards to IA/taxonomy/permissions. Business operations still happen in the source SharePoint environment while validation takes place – end users and business operations are not impacted. We can remain in UAT until business users have signed off on the content validation.
Incremental Move/Production
ShareGate will facilitate a final cutover that is an incremental move. That is, only content that has been updated since the bulk migration is copied over. This allows for a small final migration. The final migration does require an outage, but this outage is typically only one to two hours and scheduled for off-hours or a weekend.
Once the incremental move is complete, ShareGate will alert us again if any errors have occurred via a final migration report. Once any final errors are remediated, the final cutover to SharePoint will occur according to the change management plan created during the migration planning phase. Cutover will include redirecting URLs and updating shortcuts for end users.
With the incredible power and flexibility of Microsoft SharePoint comes complexity and the need to work with a Microsoft Gold Partner like Imaginet, who has a proven track record of success. Our certified SharePoint consultants can help you get the most out of your SharePoint investment.
discover more
One of the largest trailer leasing and rental companies in the United States needed assistance building an intranet hub site and department sites for their…
Let's Build Something Amazing Together
From concept to handoff, we'd love to learn more about what you are working on.
Send us a message below or drop us a line at 1-800-989-6022.