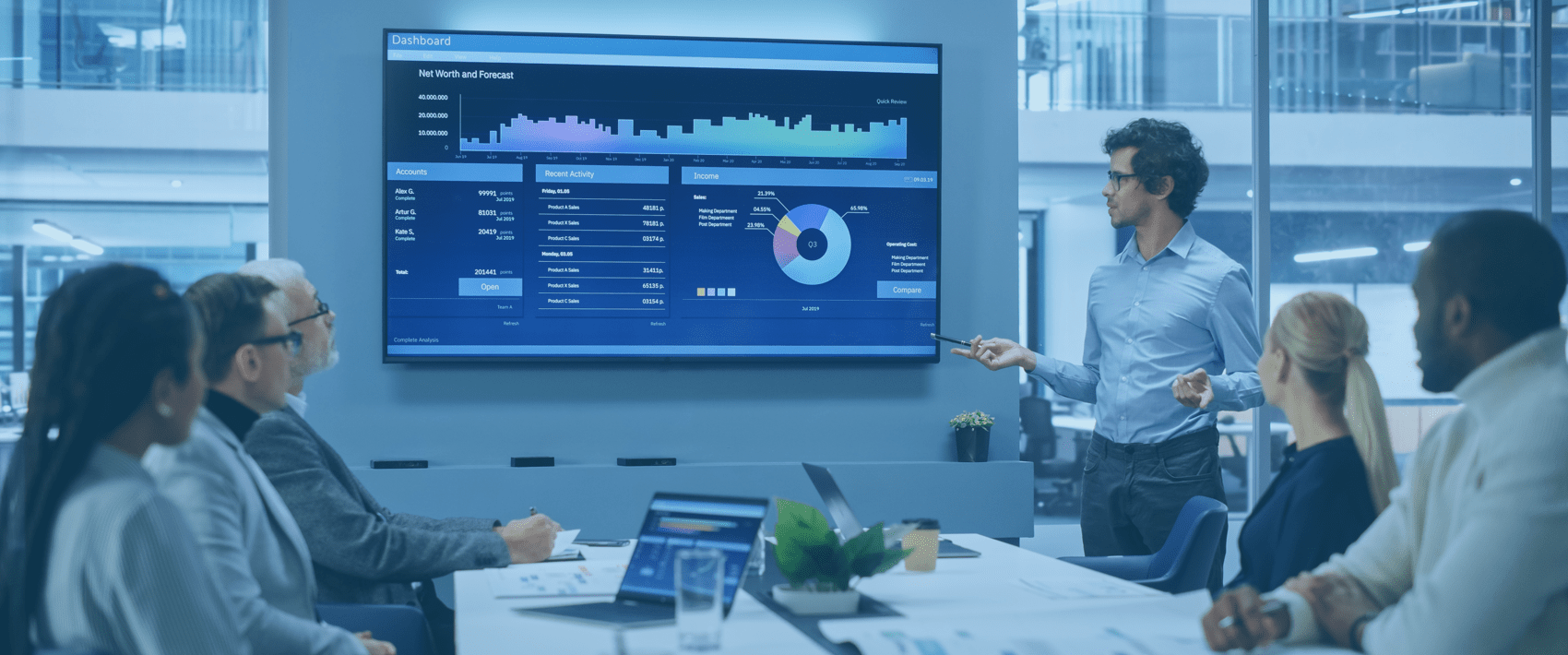 SharePoint Intranet Collaboration Portals
The Importance of Intranet Collaboration Portals in the Modern Workplace
The rapidly changing, modern, hybrid workplace has re-energized the standard communication role an intranet can play for organizations. The need to communicate and share news and organizational updates has never been more critical to promoting culture and community, as well as a sense of trust. Many organizations are taking advantage of the capabilities that SharePoint Online provides for fresh and dynamic teammate interactions through news, blog posts, quick links, and promoting a central hub for all teammate needs. Imaginet has the experience to identify your organization's specific cultural needs to share and communicate. We design a robust experience on the Microsoft 365 platform using SharePoint Online and Microsoft Teams so that your teammates are easier to reach and access securely, on a trusted platform.
Benefits of Intranet Collaboration Portals
A modern ICP in MS 365 will significantly increase the engagement and efficiency of employees in your organization. There are many areas in organizations that have embraced a modern ICP have seen a significant shift in ROI:
Productivity – The ability to find information and content easily, and display relevant content, with easy navigation.
Collaboration – Easily find and connect with experts in the organization. Tactics used include approaches like topics, quick links, and people discovery.
Security – Ensure the proper people have the correct level of access, to the right content. Using trusted tools like Active Directory, you can be sure your users and their content is secure and accessible.
Integration – Push and pull data and content from other systems. We can leverage the Power Platform or custom solutions to ensure integrations and connectivity across systems and apps.
Workplace Flexibility – Ensure teammates consistently access corporate resources, regardless of location. The modern intranet is available where and when your teammates need it.
Content Personalization – A curated experience that understands each employee's needs. Drive adoption and increase value, by having relevant and fresh content available to your teams.
At Imaginet, we believe our solutions are more than an intranet. We develop solutions that create a dynamic digital hub where your teammates have a single screen with secure access to everything they need to complete their jobs, improve productivity, engage in the community, and manage their well-being, plus a lot more.
Types of  Intranet Collaboration Portals (ICP) Content
Typical intranets provide a means to share content with your entire team. The content shared on the intranet typically falls into two main buckets: all employees or specific users, or groups of users. Employee content is targeted to all employees, regardless of their role or responsibility (i.e., information that historically is sent via mass emails, newsletters, or paper materials, to attempt to reach the entire organization). The second type of content is more targeted to the specific user that is accessing the intranet. This targeted content is more personalized to the roles and memberships of the individual user.
Both types of content are critical to adoption and must be maintained and supported to stay dynamic and fresh.
Corporate Content
This content is aimed at reaching all staff and teammates, regardless of their roles or function. The ability to share information with all teammates is a critical requirement in the hybrid workplace. Mass emails and paper formats no longer meet the need to reach your teammates where and when they are working. You need to provide modern solutions that provide secure access to the relevant information and content for your teammates. As Imaginet builds out your intranet, there are a few core areas of content to consider:
Corporate Communications – Organization-wide news and announcements, leadership messaging, financials, strategic initiatives, new locations, new policies, etc.
Department or Business Unit Specific Content – Departmental strategies, corporate structure, departments, operations, etc.
Organization Policies and Resources – Compliance information, COVID standards, return to office, travel policies, HR forms, benefits, etc.
General Corporate Resources and Information – Office locations, corporate events calendar, IT resources, all-employee webinar archive, health and wellness, etc.
Corporate News Feed – Dedicated feeds, such as CEO messages, social media, news releases, internal announcements, etc.
Links – Connections to other platforms that might be useful for the team (e.g., WorkDay, Salesforce, SAP, etc.).
Personalized Content
This content is aimed at reaching teammates that are members of a specific role, function, or group within the organization. Modern intranet solutions like SharePoint provide the ability to share information to specific teammates, with distinct security and accessibility, on the same platform. As we build out your intranet, there are some targeted areas of content we can begin to identify:
Personalized, Relevant User Content – User documents, tasks, and recommended content, customized for each user, or group of users.
Targeted Content – Regionally focused content and news, specific webinars, and policies.
Targeted News – Business unit leaders and news, targeted by region or role.
Foundational Elements of Intranet Collaboration Portals
A successful ICP implementation requires six SharePoint foundational elements:
Site Taxonomy:
The most important element for a successful and sustainable ICP is the initial Site Taxonomy. The Site Taxonomy creates classification systems for hubs, sites, subsites, and groups, to make it easier for users to navigate and to find the content they are looking for, with multiple ways to discover content. The Site Taxonomy discovery and design makes it possible to identify and label structured and unstructured content and give business context to content and information. In other words, the Site Taxonomy makes it easier to organize, arrange, rearrange, search, and distribute content in various ways. This includes presenting related and relevant content to users and improving the search experience. Site Taxonomy is often presented via a visual diagram and can be hierarchical or flat (or a combination of both). The modern SharePoint Online taxonomy supports future sustainment and security, on the Microsoft 365 platform.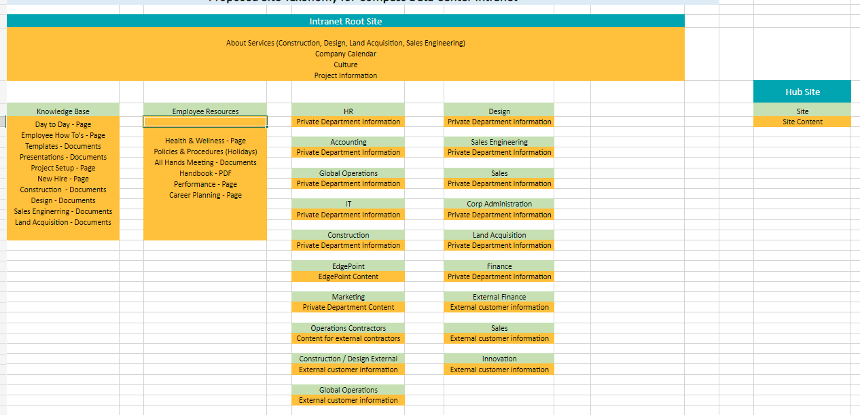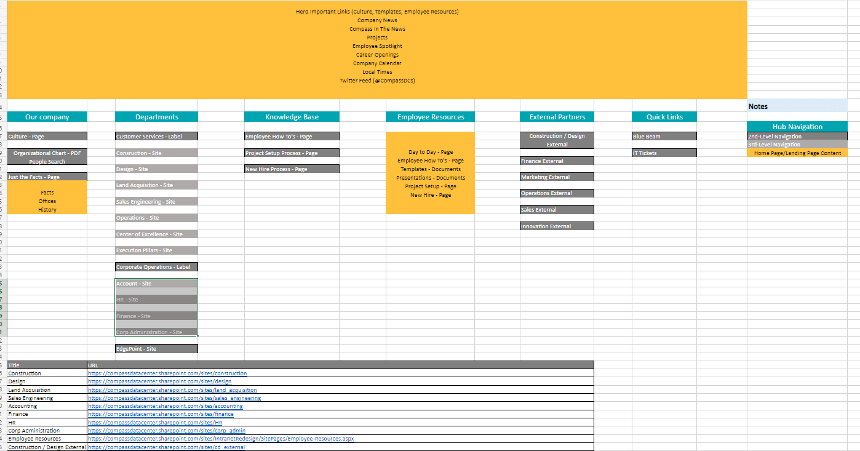 Information Architecture (IA)
The IA is another foundational element to your intranet portal. Building upon the Site Taxonomy blueprint, the IA focuses on how and who will be organizing, structuring, and collaborating on content, in an effective and sustainable way. The goal is to help users find content and complete tasks as easily as possible. To do this, you need to understand how the pieces of content fit together to create the larger picture and process; how items relate to each other within the business unit or team. A well-designed IA allows for all content to have a place within your organization, over the course of its lifecycle, as well as helping to identify where new types of content should go as your organizational content grows. The IA also includes the identification of metadata (both structural and descriptive) for content and how they should be applied, if any.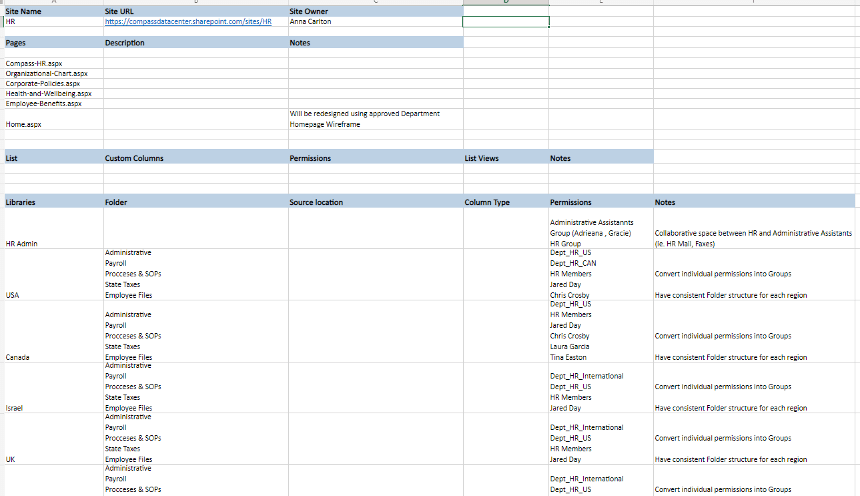 Permissions
To enable the right users to access the correct content, permissions and security must be properly configured. By design, SharePoint is permissions based, so each user will see a targeted experience for their permissions. Two different users can navigate to the same page but see different content, based on their permissions. Similarly, two users can access the same document, but one may be able to edit it, while the other can only read it. Permissions become especially important when returning search results and creating connections between people and content. If permissions are too liberal, sensitive information can be viewed and important documents can be changed. If permissions are too strict, users will be unable to find or use content that is relevant to them.
Governance
Governance is the set of policies, roles, responsibilities, and processes that control how your organization's business divisions and IT teams work together to achieve its goals. Every organization has unique needs and goals that influence its approach to governance. There are a variety of options to enable your governance policies across SharePoint and related services. Your organization might require that you implement strict controls on how these teamwork tools are used. Naming conventions, guest access, and classification of sites, groups, and files can all be implemented in SharePoint. Having a consistent framework to address updated content, new organizational needs, and unknown changes to the organization, are key to long-term sustainability.
Easy Content Publishing and Updating
The next element for a successful intranet is to ensure that content is easy to create, which will make it more likely that your teammates and users find value in what is displayed and continue to adopt the intranet as their digital hub. SharePoint Online intranets provide easy content creation, through dynamic page authoring and editing. The ability to create versions and drafts, while maintaining access to published content, is native functionality in the SharePoint platform. Content authors can create templates for specific types of content to encourage rapid content creation. The modern page editing capabilities are the most robust of any version of SharePoint to date. Modern content display methods, such as responsive design for cross device support, targeted content filtering, and many new, web part layouts, make the content creation process very engaging and appealing.
Support Adoption
Imaginet believes the most important element of a successful ICP is the adoption by the users. To support adoption of the intranet solutions, Imaginet consultants deliver the Imaginet Process in an iterative fashion, partnered with specific teammates by business unit. This allows Imaginet consultants to empower our partners with a sense of ownership through the design, development, and deployment of their solution. By partnering closely with business unit members during design and development, not only can Imaginet consultants build a robust solution that meets the team's specific requirements, but it also drives ownership of the solution and ensures adoption, by involving the business team during the design and development phases. This iterative, hands-on approach ensures the business is adopting and using the solution toolset throughout the duration of the project. This is solidified during the Imaginet User Adoption and Training phases that target the specific roles and tasks necessary for support and sustainment of the solution.
Our Process
To create the foundational elements for intranets, Imaginet performs the following activities:
Business Requirement Capture Sessions (BRCs)
BRCs are iterative workshops led by Imaginet consultants, in partnership with the client project team, to capture, document, and validate the business requirements identified for a specific business group.  As well as identifying and reviewing proposed solution concepts, we begin the development of an initial Site Taxonomy and Information Architecture for the ICP. The goal is to create (or update) an Information Architecture that lays out the organization of content and the required business processes or customizations, for the identified business group. These workshops identify the elements of the SharePoint Governance Workbook that outlines the organization of metadata, business content, and any required business process approvals or notifications. This includes Document Management, Governance, Search, Integration, Security, and Business Process workflow for specific business group content. These workshops identify the Microsoft 365 services, such as SharePoint Online, OneDrive, PowerApps, Power Automate, etc., that will best meet requirements.
Design Workshops
Imaginet SharePoint Design Consultants lead Design Workshops, in partnership with the client project team, to review sample modern designs, propose, and capture initial business requirements, and solution design concepts, and begin mapping user tasks to support the development of proposed page designs with SharePoint.
The client project team presents these page designs for review and approval. Upon approval of the page designs, Imaginet consultants will ensure proper alignment of the design concepts with the Site Taxonomy and Information Architecture.
Tenant Configuration
Imaginet consultants will script and execute the tenant configuration in alignment with the approved Governance Workbook. This includes the Site Taxonomy and Hub configuration, User Security and Permission configuration, and Solution Design configuration, by ensuring the proper navigation, pages, content repositories, and web parts are configured and available. A technical resource completes this task to ensure proper alignment with business requirements and the Governance Workbook.
Modern Experience with Configuration vs. Customization
At Imaginet, we have experience with intranet portals on SharePoint dating back to the initial WSS deployment. We have built very robust, custom solutions that required large support investments in the on-premises version of SharePoint. As the transition to SharePoint Online has become more prevalent, Imaginet has adopted a more configuration-based model, as opposed to fully custom. The investment and capabilities of the modern experience in SharePoint Online allows for Imaginet to design and develop very modern and elegant experiences for our clients. The ability to configure a fully responsive intranet, with out-of-the-box (OOTB) web parts is always our initial target when identifying solutions for business requirements.
However, if there are specific business needs that cannot be met with OOTB capabilities, Imaginet can still create custom solutions for your intranet portal. The SharePoint framework has enabled us to leverage our custom development skillset and apply it to the MS 365 platform. This means we can now create specific solutions to match business needs, with custom SharePoint framework web parts, available through the App Store in your tenant.
Teams Integration
Imaginet believes true adoption happens when teammates have a single tool to provide multiple business functions. By integrating the Microsoft Teams platform as a collaboration tool, we can provide a single experience for teammates to work together on live documents while having quick access to the ICP. Viva Connections and the Teams application allow for users to have one screen with their intranet and their Teams-based work available to them.
Training and User Adoption
One of the primary phases of any intranet portal solution is the Change Management and User Adoption phase. Imaginet believes in planning, preparing, and communicating the launch of any new ICP. By planning for cutover and seamless deployment, we can help ensure the end user experience is pleasant and there is minimal impact on business productivity during the deployment. By deploying the solution in an iterative method, we can drive adoption through the lifecycle of the project. This allows us to target our role-based training to the areas most needed by the users. Imaginet also provides various delivery methods for our role-based training. This includes live sessions, recorded content, or  training the trainer with solution-specific documented materials.
Let's Build Something Amazing Together
From concept to handoff, we'd love to learn more about your work.
Send us a message below or call us at 1-800-989-6022.

discover more
One of the largest trailer leasing and rental companies in the United States needed assistance building an intranet hub site and department sites for their…