With the help of Imaginet's Business Productivity team and Microsoft Office 365, one civil construction firm was able to accelerate their business, reduce operations costs, and boost real-time productivity across their organization.
Business Situation
Southland Holdings, LLC, one of North America's largest heavy civil construction firms, was ready to digitally transform their day-to-day business operations in order to accelerate their business, reduce operations costs, and boost real-time productivity across their organization.
For years, Southland Holdings was leveraging out-of-date, antiquated business processes for document management, project collaboration, and employee accessibility to corporate information. This resulted in inefficient processes, too many mundane tasks, and limited information sharing.
Technologies Used
Microsoft 365
Application Development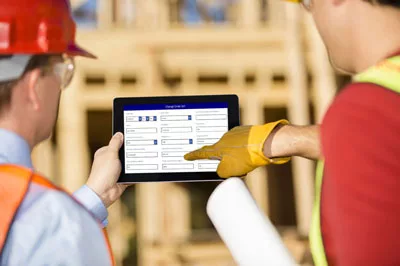 These pains were felt most by the Operations Projects teams, who typically work on location at different large-scale construction projects at times in very remote locations throughout North America. These project team members had to leverage paper-based project forms to capture daily project-related information, such as project status, material statuses, expense reports, and change requests. These documents then had to be submitted to the main corporate office, which required the project team members to lug around bulky laptops, connect via Wi-Fi to their VPN, connect to their Citrix terminals, and then scan and upload their paper-based project documentation to the main corporate network drive or email for other team members to submit.
This existing process created a number of issues for their team. First, collaboration and information exchange between the remote project teams and the main corporate office occurred sparingly – sometimes only at the end of the day. Since project team members had to use laptops, Wi-Fi, VPN, and Citrix to submit project info, this meant they had to inconveniently stop their work in the field and walk to the main office at their job site to get access to everything they needed. Because this was so cumbersome, they did it as sparingly as possible to not impact project productivity, but thereby reducing collaboration and information sharing across corporate and project teams.
Second, this process required Wi-Fi access for their laptops in order to connect to the main corporate systems. This created an additional burden for their IT team to ensure that Wi-Fi access was configured and available at all the remote locations. And the more remote the location, the more difficult (and expensive) it was to implement and support the secure Wi-Fi access to corporate resources.
Third, the documents that were uploaded were stored on an old-school Windows network file share drive. Network drives lack both proper document versioning and any enforced standardization of data structure. This created difficulties when trying to quickly locate correct versions of documents, as multiple separate versions might exist on the file share. In addition, when the Director of Operations wants to see a rolled-up status report on how ALL the projects are doing, this must be done manually, piecemealing together the data from different project status reports scattered across the network drive.
Solution Story
To overcome these pain points, Southland Holdings set out to transform their business processes by providing enhanced document collaboration and management, real-time collaboration, and improved employee accessibility to corporate information, regardless of their location. To assist them on their journey, Southland Holdings turned to Imaginet and our Microsoft SharePoint and Office 365 expertise to lead them in their business process optimization journey.
Step 1: Requirements Review and Platform Selection
After reviewing the initial set of requirements, Imaginet and Southland Holdings opted to leverage the Microsoft Office 365 platform – including SharePoint Online, Microsoft Teams, PowerApps, Microsoft Flow, Azure Active Directory (AD), Azure Runbook, and Azure Logic Apps – as the foundation for their new collaboration and communication solution.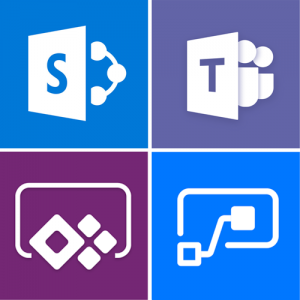 The choice to consolidate and standardize on the Microsoft Office 365 platform would provide multiple benefits to their team. First, since most of their employees were already familiar with the standard Office 365 Suite user interface and look-and-feel, the learning curve for SharePoint Online was significantly reduced since it leveraged similar control menus and navigation structure. Ultimately, this would minimize end user training time and boost the rate of adoption of the new solution.
Second, by unifying on the Microsoft Office 365 cloud, their IT team would have an easier time learning and supporting a single, interconnected platform as opposed to being spread very thin by having to support a wide array of unrelated technologies (such as Citrix, Timberline, ShareFile, etc.).
Third, since Microsoft Office 365 supports both browser-based and dedicated iOS/Android apps (such as the SharePoint app, OneDrive app, Teams app, PowerApps app, etc.), their employees could simply use their tablet or mobile phone to interact with the custom Microsoft Office 365 solution directly over a cellular network. This would greatly reduce their current infrastructure requirements since they would no longer need access via their laptops to Wi-Fi, VPN, Citrix, etc.
Step 2: Information Architecture Design & Setup
Once Microsoft Office 365 was selected as the underlying platform, the next step was to design and setup the appropriate information architecture (IA) for their new Office 365, SharePoint Online, and Microsoft Teams environment.
Southland Holdings leveraged Imaginet's Office 365 expertise to correctly architect the new solution using the Modern SharePoint Team and Communication sites with Hub sites and navigation. Imaginet conducted an in-depth review and analysis of the existing systems and processes, and the information architecture was developed taking the existing taxonomy into consideration for the transition to the modern experience. This approach would help ensure an easy and seamless migration of the existing taxonomy to the new architecture, while also making it easier for end users to understand and adapt to the new custom Office 365 solution.
This information architecture also provided the ability to integrate with Microsoft Teams. This was accomplished by creating an Office 365 Group Foundation and converting the Office 365 groups to Teams behind-the-scenes leveraging the Microsoft SharePoint Practices & Patterns (PnP) libraries. This approach would provide Southland Holdings with the future ability to automatically enable and deploy a new Office 365 group and Microsoft Team for each new Project based on a standardized project site template.
Step 3: Standardized Site Provisioning
After the successful implementation of the modern information architecture and site taxonomy, the next step for Imaginet and Southland Holdings was to develop a standardized methodology for automated SharePoint site provisioning based on custom templates.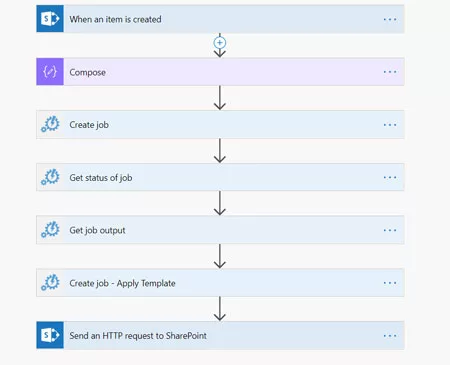 This would resolve the challenge of their Operations Project team having to manually create a new SharePoint site to house all the pertinent artifacts and documentation for that new project. In order to ensure consistency and standardization across ALL their SharePoint project sites, Imaginet created a 1-click automated workflow that would automatically setup everything for them, including (1) spinning up a blank SharePoint Site Collection using Azure, (2) leveraging a standardized SharePoint Template that calls out to Azure, (3) setting up the standard document library, lists, tags and page types available to them based on the SharePoint site template, and (4) setting up the hooks to integrate with Microsoft Teams. This 1-click automated workflow leveraged a combination of Microsoft technologies including Microsoft Flow, Azure Logic Apps, and the SharePoint Practices & Patterns (PnP) library.
Having all the SharePoint project sites setup consistently resulted in several benefits to their Operations team. First, document search was much faster and more reliable than ever before as a result of using document tagging and the built-in Microsoft Delve search functionality. Second, project status roll-up reporting was now significantly easier as well. Whenever the Director of Operations needed to see a summary report for all project statuses across all companies, this could now be automatically viewed within a single SharePoint dashboard rather than manually compiling the information from the individual status reports scattered across various network drives. This improved the experience for the Director and various levels of team members responsible for managing and supporting projects.
Step 4: Digital Forms and Automated Workflows
In addition to the Site Provisioning automated workflow mentioned above, Imaginet setup several other custom Microsoft Flows to optimize their business processes. The goal was to leverage SharePoint Online, Microsoft Flow, and PowerApps to digitize their manual, paper-based processes and to make all of these digital forms available from a browser or dedicated mobile app so they could be accessible by any device (tablet, phone, laptop) in any location.
For example, the project/area manager would often need to submit a Change Order or a Budget Adjustment form, which are frequently used for ongoing projects. Previously, this was done via a manual, paper-based form that had to be filled out, scanned, and uploaded to the corporate office for approval and processing. Now, with SharePoint Online, Microsoft Flow and PowerApps, this same form can be filled out electronically, instantly routed to the correct approver, and automatically send out notifications to the appropriate parties along the way. Not only did this save time and energy when submitting forms, but it also accelerated the approval process and eliminated long wait times between steps.
Various other forms were also converted from a paper-based process to a digital workflow. For example, Software/Hardware Request forms are commonly used when a new employee joins a Project. Now, these forms can be filled electronically and routed via an automated workflow to appropriate approvers. This workflow also makes it easier to track the status of the Software/Hardware requests since these details are now stored in SharePoint lists for future reference.
Value provided
•	Improved digital accessibility to all employees, whether in office or at remote locations 
•	Provided real-time collaboration as a result of instantaneous document and information sharing.
•	Reduced operations and support costs by standardizing on a common platform and eliminating unneeded technologies.
•	Improved day-to-day operational efficiencies by eliminating manual, Paper-based forms
•	Boosted productivity by standardizing all project information sites within SharePoint on a common template. 
•	Establish a common tool set and user experience for employees across all departments

With the help of Imaginet, Southland Holdings' new Office 365 collaboration and communications solution was able to digitally transform their day-to-day business operations. Today, they are experiencing significant business benefits, including improved digital accessibility, reduced operations and support costs, improved day-to-day operational efficiencies, and boosted employee productivity throughout the organization.
Thank you for reading this post! If you enjoyed it, please check out some of our other content on this blog. We have a range of articles on various topics that I think you'll find interesting. We have recently completed some amazing projects that we are incredibly proud of! Our team has been working hard to deliver exceptional results, and we are thrilled to share our success with you. Don't forget to subscribe to our newsletter to stay updated with our recent successful Microsoft 365 projects.
Let's Build Something Amazing Together
From concept to handoff, we'd love to learn more about what you are working on.
Send us a message below or drop us a line at 1-800-989-6022.